Skip to product information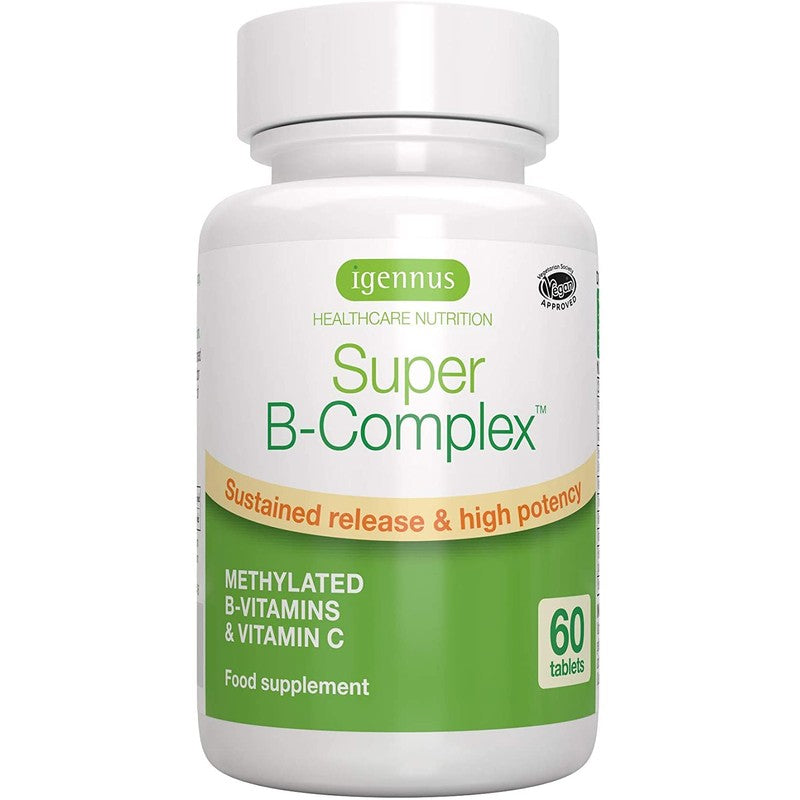 Open media 1 in gallery view
Open media 2 in gallery view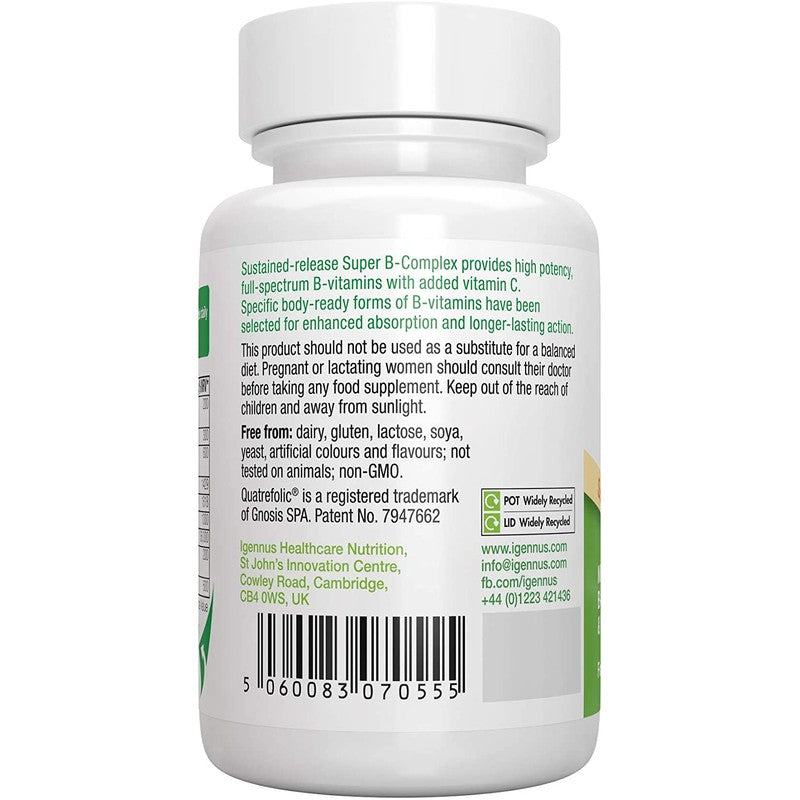 Open media 3 in gallery view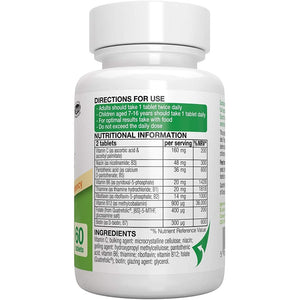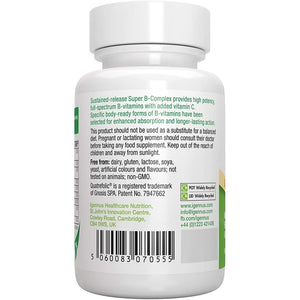 Super B-Complex – Methylated Sustained Release B Complex & Vitamin C, Folate & Methylcobalamin, Vegan, 60 Small Tablets
HIGH STRENGTH, SUPER ABSORBABLE B complex vitamins including thiamine (B1), Riboflavin-5-phosphate (B2), Niacinamide (flush free Niacin - B3), Calcium D-pantothenate (B5), D-Biotin (B7) & Pyridoxal-5-Phosphate (Vit B6) METHYLATED VITAMIN FORMS
Description
Shipping Policy
Reviews
Description
Shipping Policy
Reviews
Description
Shipping Policy
Reviews
HIGH STRENGTH, SUPER ABSORBABLE B complex vitamins including thiamine (B1), Riboflavin-5-phosphate (B2), Niacinamide (flush free Niacin - B3), Calcium D-pantothenate (B5), D-Biotin (B7) & Pyridoxal-5-Phosphate (Vit B6)
METHYLATED VITAMIN FORMS that the body utilises immediately: bioavailable folate as methylfolate & methylcobalamin (Vit B12) - no poorly absorbed cyanocobalamin
SUSTAINED RELEASE provides all-day nutrient coverage and twice daily dosing optimises B12 levels
INTENSIVE HEALTH SUPPORT for energy metabolism, immune and hormonal function, homocysteine regulation, nutrient metabolism, heart function, neurological health. MTHFR-friendly
PURE & CLEAN: vegan, non-GMO, hypoallergenic ingredients, no unpleasant fillers (silicon dioxide, magnesium stearate or titanium dioxide). Lab verified, GMP manufactured in the USA. Small 9mm tablets

Brand:
Igennus Healthcare Nutrition
Size:
60 Count (Pack of 1)
Manufacturer:
Pharmepa

Flavor

:
Unflavored

Item Form

:
Tablet

Primary Supplement Type

:
B-Complex

Product Dimensions

:
1.85 x 1.85 x 3.43 inches;

 

Advanced, methylated B-vitamin complex optimised for bioavailability, with sustained release for all-day nutrient coverage

Full spectrum B-vitamin complex with advanced, active nutrient forms for superior results*

This supplement provides full spectrum B-vitamins in bioavailable methylated forms that the body absorbs and utilises easily. Split dosing ensures that vitamins B12 and C are taken up by the body effectively, and a sustained-release matrix supports all-day nutrient coverage.

Each ingredient has been selected for optimum absorption and biological activity, including folate (as calcium L-methylfolate), methylcobalamin and pyridoxal-5-phosphate.

The B-vitamins included in this formula are scientifically shown to support energy production, reduce tiredness and fatigue, support homocysteine regulation, heart health, hormonal balance and brain function, as well as protect cells from oxidative stress and boost mental performance.*

*These statements have not been evaluated by the Food and Drug Administration. This product is not intended to diagnose, treat, cure, or prevent any disease.

* These statements have not been evaluated by the Food and Drug Administration. This product is not intended to diagnose, treat, cure, or prevent any disease

Lead a healthier, fuller life with high impact nutrition

Body-ready methylated B-vitamins offer superior health benefits*

B-vitamins are essential micronutrients required for many hundreds of enzyme-mediated functions within the body. Being water-soluble (and therefore unable to be stored away in body fat), B-vitamins must be consumed daily. Unless you regularly eat raw, fresh, local and whole foods, the level of B-vitamins in your diet is likely to be insufficient for the demands of modern life. Igennus nutrition scientists have formulated Super B-Complex using the most bioavailable, active and effective forms for optimal health benefits.*

Heart health and homocysteine recycling*

Higher levels of homocysteine are a known risk factor for heart disease. To regulate homocysteine levels, the body requires methylated forms of vitamins B12, B6 & folate. Dietary intake of these necessary nutrients may not be converting to the active forms due to genetic variants on the MTHFR gene.

Super B-Complex has been scientifically formulated by nutrition scientists to provide these essential nutrients in their methylated forms, at clinical doses to effectively support homocysteine recycling and support heart health.*

Energy production*

The body is reliant on a constant supply of B-vitamins to support the production of energy: vitamins B1, B2, B3 and B5 are required to produce energy from carbohydrates, protein and fats in the diet; vitamin B6 helps break down stored energy from muscles and the liver; vitamin B12 is required for the production of cellular energy in the body. For those with energy management conditions, B-vitamins also support detoxification processes which may be impaired.*

Mood, stress & anxiety*

Vital B-vitamins are often depleted during times of stress whilst elevated homocysteine levels are also linked with neurotransmitter deficiency. Super B-Complex provides methylated forms of vitamins B6, B12 and folate, at doses shown in clinical research to effectively reduce homocysteine. Our Super B-Complex also supports the function of the nervous system and contributes to normal cognitive and psychological function.*

 

Safety Information

This product should not be used as a substitute for a varied and balanced diet and healthy lifestyle. As with any dietary supplement, please consult your physician before use if you are pregnant or breastfeeding, have a medical condition, or are taking any medication. Keep out of the reach of children and away from sunlight.

Indications

• supports energy release • reduces tiredness and fatigue • supports heart health • protects cells from oxidative stress • supports homocysteine metabolism • supports psychological function • supports neurological function • supports the nervous system • maintains normal hormonal function • supports mental performance • supports immune system function

Ingredients

Vitamin C (ascorbic acid, ascorbyl palmitate); microcrystalline cellulose; hydroxypropyl methylcellulose; niacinamide; calcium D-pantothenate; thiamine hydrochloride; riboflavin 5'-phosphate; pyridoxal 5'-phosphate; methylcobalamin; calcium L-methylfolate; D-biotin;glycerin.

Directions

Adults take 2 tablets daily with food. The daily dose may be divided between morning and evening. Do not exceed the stated dose.

Legal Disclaimer

Statements regarding dietary supplements have not been evaluated by the FDA and are not intended to diagnose, treat, cure, or prevent any disease or health condition.
At GNMart, we understand that receiving your order in a timely and efficient manner is important to you. That's why we offer fast and reliable shipping options to ensure that your products arrive as quickly as possible.




PROCESSING TIME

We strive to process all orders as quickly as possible. Typically, orders are processed within 1-2 business days from the time of purchase. Please note that orders placed on weekends or holidays may experience a slight delay in processing.

SHIPPING METHODS AND COSTS

We offer a variety of shipping options to meet your needs, including standard and expedited shipping. The cost of shipping is calculated based on the weight and size of your order, as well as the shipping method you choose at checkout.

Once your order has been shipped, you will receive an email confirmation with tracking information so that you can keep an eye on your package as it makes its way to you.

INTERNATIONAL SHIPPING

We are proud to offer international shipping to select countries. Please note that international shipping times may vary depending on your location and customs processing times. Additionally, please be aware that you may be responsible for customs fees and taxes upon delivery.
Stay home & get your daily
needs from our shop
Start You'r Daily Shopping with Nest Mart