Skip to product information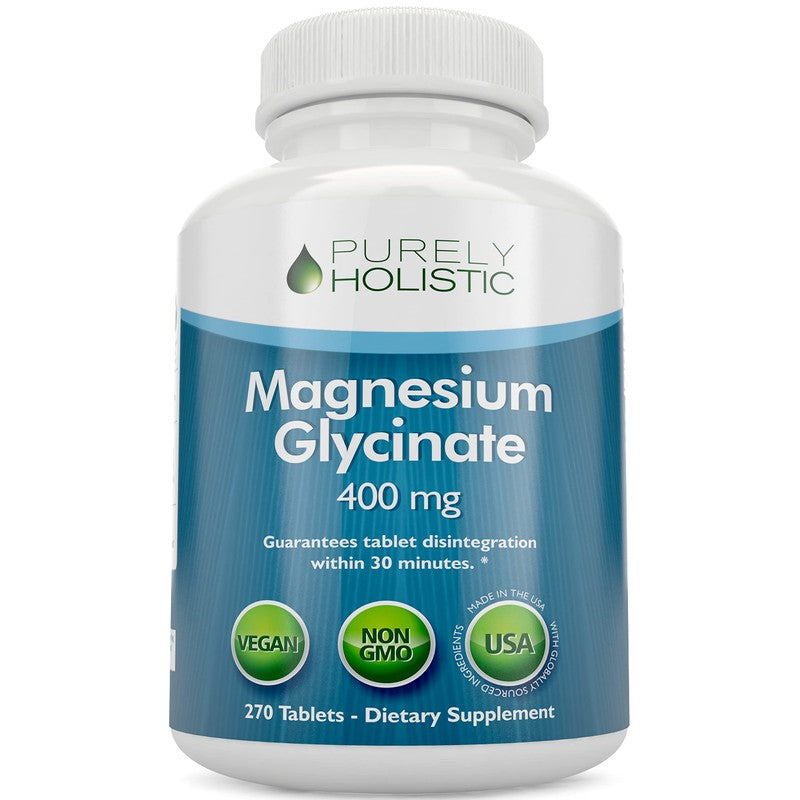 Open media 1 in gallery view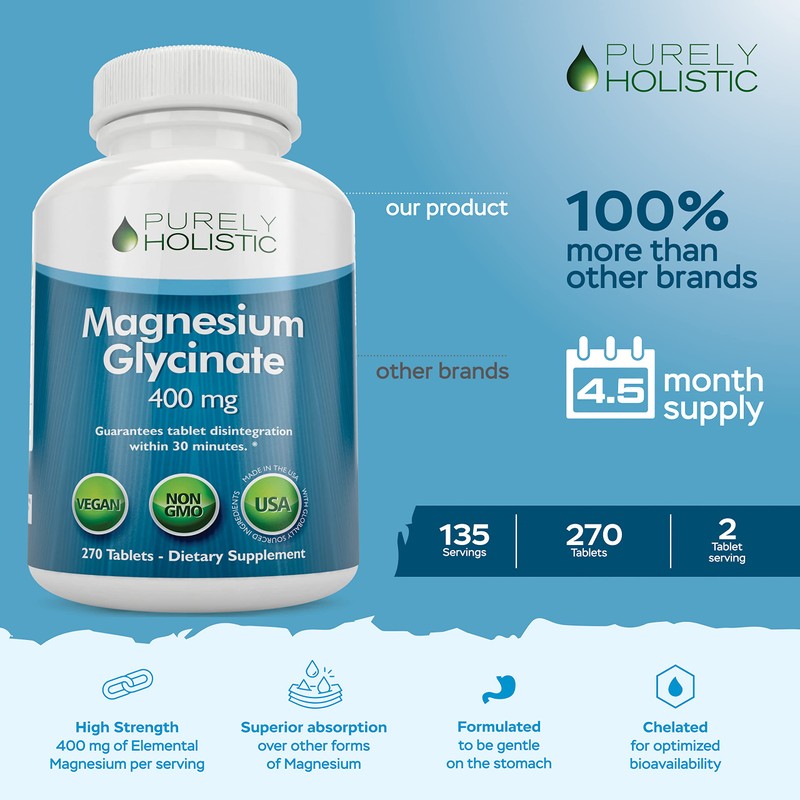 Open media 2 in gallery view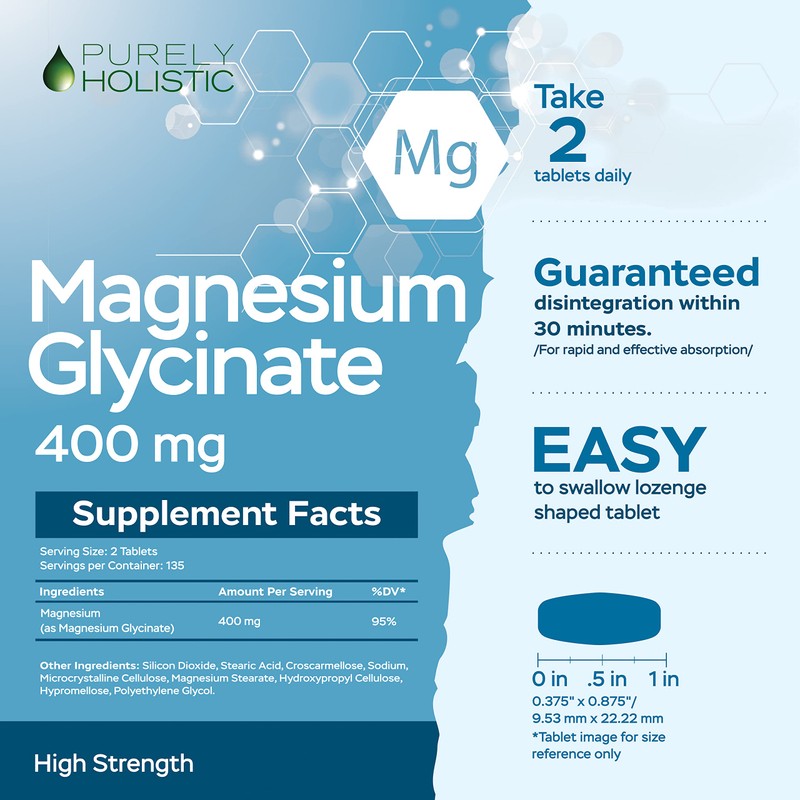 Open media 3 in gallery view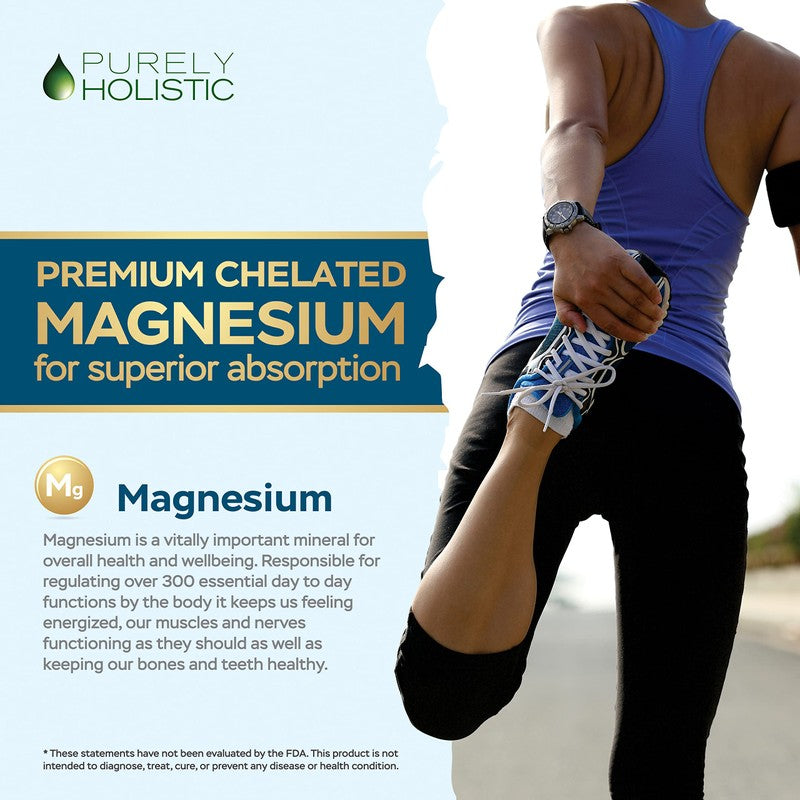 Open media 4 in gallery view
Open media 5 in gallery view
Open media 6 in gallery view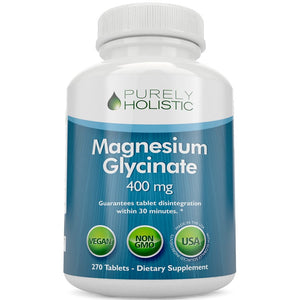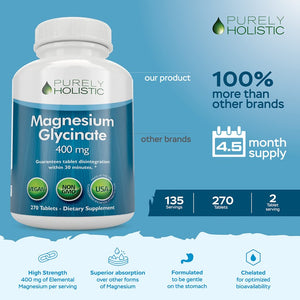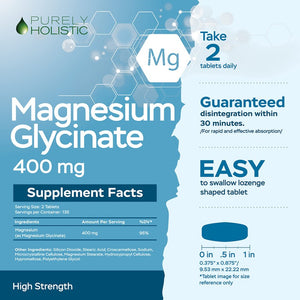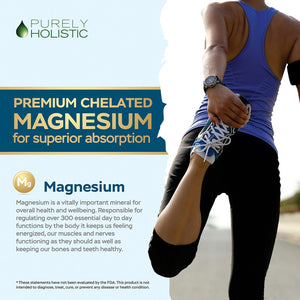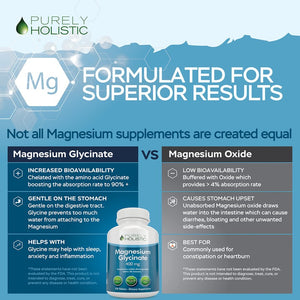 Purely Holistic Magnesium Glycinate 400mg - 270 Magnesium Tablets - 400 mg Elemental Magnesium - Highly Bioavailable - Vegan and Vegetarian - for Improved Sleep, Stress Relief & Cramp Defense
Sale price

$39.90
20% Off

Regular price

$49.90
✓ 100% More - We offer an INCREDIBLE 270 tablets per bottle for a 4 month supply. This is TWICE the amount offered by other Magnesium Glycinate supplements. Our group
Description
Shipping Policy
Reviews
Description
Shipping Policy
Reviews
Description
Shipping Policy
Reviews
✓ 100% More - We offer an INCREDIBLE 270 tablets per bottle for a 4 month supply. This is TWICE the amount offered by other Magnesium Glycinate supplements. Our group is one of the largest supplement manufacturers in the USA. We benefit from being able to buy ingredients in bulk and in turn pass those savings directly to you
✓ Optimal Absorption - Magnesium supplements can differ greatly in their bioavailability. Our magnesium supplement uses premium Magnesium Glycinate which is a form of magnesium bonded with the amino acid glycine, which offers a higher yield than both magnesium citrate or oxide. We have specially formulated our Magnesium to guarantee tablet disintegration within 30 minutes according to USP standards.
✔ Premium Ingredients - We use only a premium Magnesium which has a high absorption rate, which is well tolerated and minimizes laxative effect. We only use the highest quality ingredients in our products. You can be assured that we never add fillers, artificial flavourings, colourings or stabilisers. Our formulation is suitable for vegans and is free from dairy, soy, gluten and any GMO ingredients. All our supplements are Lab verified - so you can be confident in what you are taking.
✔ Essential Mineral - Magnesium is an essential mineral that helps to ensure normal muscle function (which helps cramp defense for leg cramps), the balance of electrolytes in the body, strong and healthy bones and teeth, normal function of the nervous system. Deficiency in Magnesium is very common in the US which is why supplementation is highly recommended.
✔ Purity as Standard - At Purely Holistic our philosophy is simple; to provide natural, nutritious and no nonsense health products for those who want a purer supplement with no hidden extras. We pride ourselves on being a trusted brand who expertly craft high quality, potent and exceptional value for money products, using only the best ingredients. Our products are made right here in the USA and to the strictest standards

Brand:
Purely Holistic
Size:
270 Count (Pack of 1)
Manufacturer:
Purely Holistic

Flavor

:
Unflavored

Item Form

:
Tablet

Product Dimensions

:
6.26 x 3.27 x 3.15 inches;

 

 

 

 

 

*These statements have not been evaluated by the Food and Drug Administration. This product is not intended to diagnose, treat, cure, or prevent any disease.

Why take Magnesium?

Magnesium is a vitally important mineral to the body. Our cells depend on magnesium to regulate day-to-day metabolic reactions, to help in the process of cell division and protein synthesis, to facilitate proper muscle and nerve function and in the maintenance of normal bones and teeth.

There are a few sources of elemental Magnesium with various % yields and bioavailability. Magnesium Bisglycinate is an elemental magnesium naturally bonded to two glycine amino acid molecules. It has a 10% yield, but the highest bioavailability of all Magnesium sources. One serving provides 400mg of elemental Magnesium. Our formulation is designed to be rapidly absorbed within 30 minutes without upsetting the stomach.

Why Buy Purely Holistic Magnesium Glycinate?

* 100% MORE - 270 vegan capsules per bottle. Twice the amount offered by most competitors.

* ALLERGEN FREE - Our Magnesium is FREE from milk, lactose, gluten, wheat, eggs, crustaceans, fish, nuts, seeds and mustard. It is also suitable for vegetarians and vegans.

* FAST & EFFECTIVE - Unlike other forms of magnesium, our Mag Glycinate is formulated to act quickly without upsetting your stomach.

* 100% MONEY BACK GUARANTEE - We offer a no questions asked return policy. We want you to be 100% satisfied with our products or your money back

** These statements have not been evaluated by the Food and Drug Administration. This product is not intended to diagnose, treat, cure, or prevent any disease.
At GNMart, we understand that receiving your order in a timely and efficient manner is important to you. That's why we offer fast and reliable shipping options to ensure that your products arrive as quickly as possible.




PROCESSING TIME

We strive to process all orders as quickly as possible. Typically, orders are processed within 1-2 business days from the time of purchase. Please note that orders placed on weekends or holidays may experience a slight delay in processing.

SHIPPING METHODS AND COSTS

We offer a variety of shipping options to meet your needs, including standard and expedited shipping. The cost of shipping is calculated based on the weight and size of your order, as well as the shipping method you choose at checkout.

Once your order has been shipped, you will receive an email confirmation with tracking information so that you can keep an eye on your package as it makes its way to you.

INTERNATIONAL SHIPPING

We are proud to offer international shipping to select countries. Please note that international shipping times may vary depending on your location and customs processing times. Additionally, please be aware that you may be responsible for customs fees and taxes upon delivery.
Stay home & get your daily
needs from our shop
Start You'r Daily Shopping with Nest Mart