Skip to product information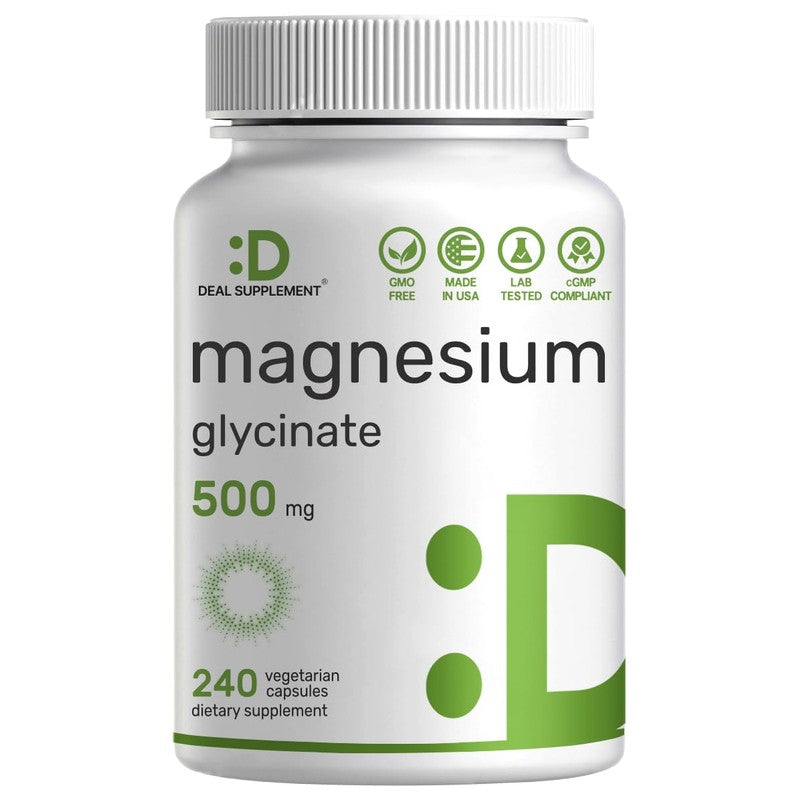 Open media 1 in gallery view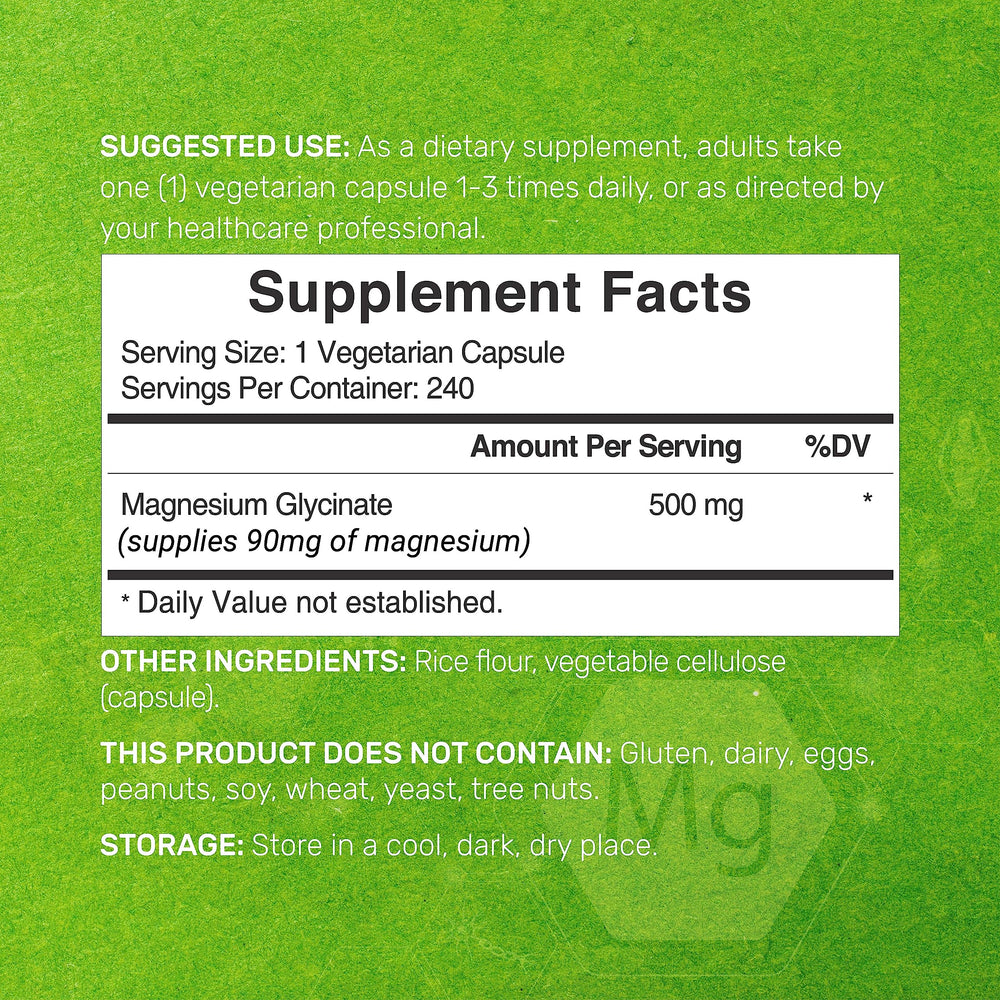 Open media 2 in gallery view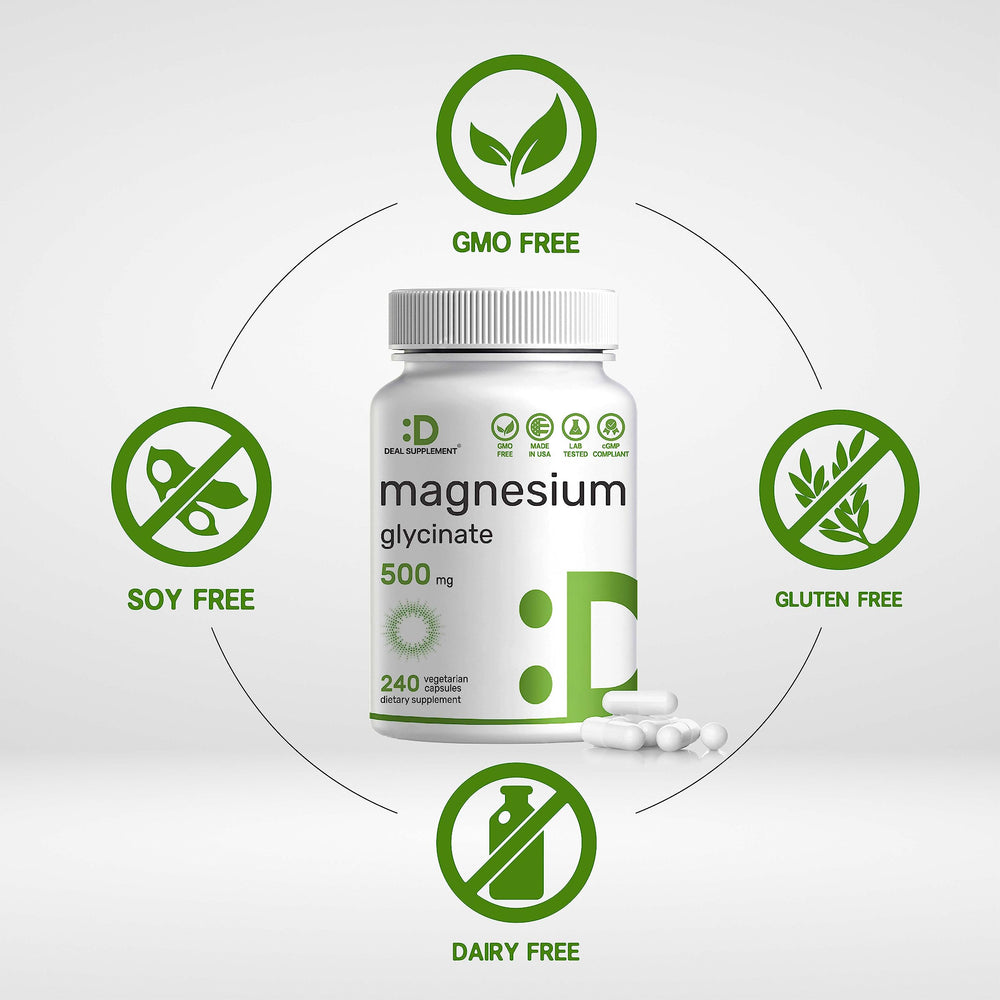 Open media 3 in gallery view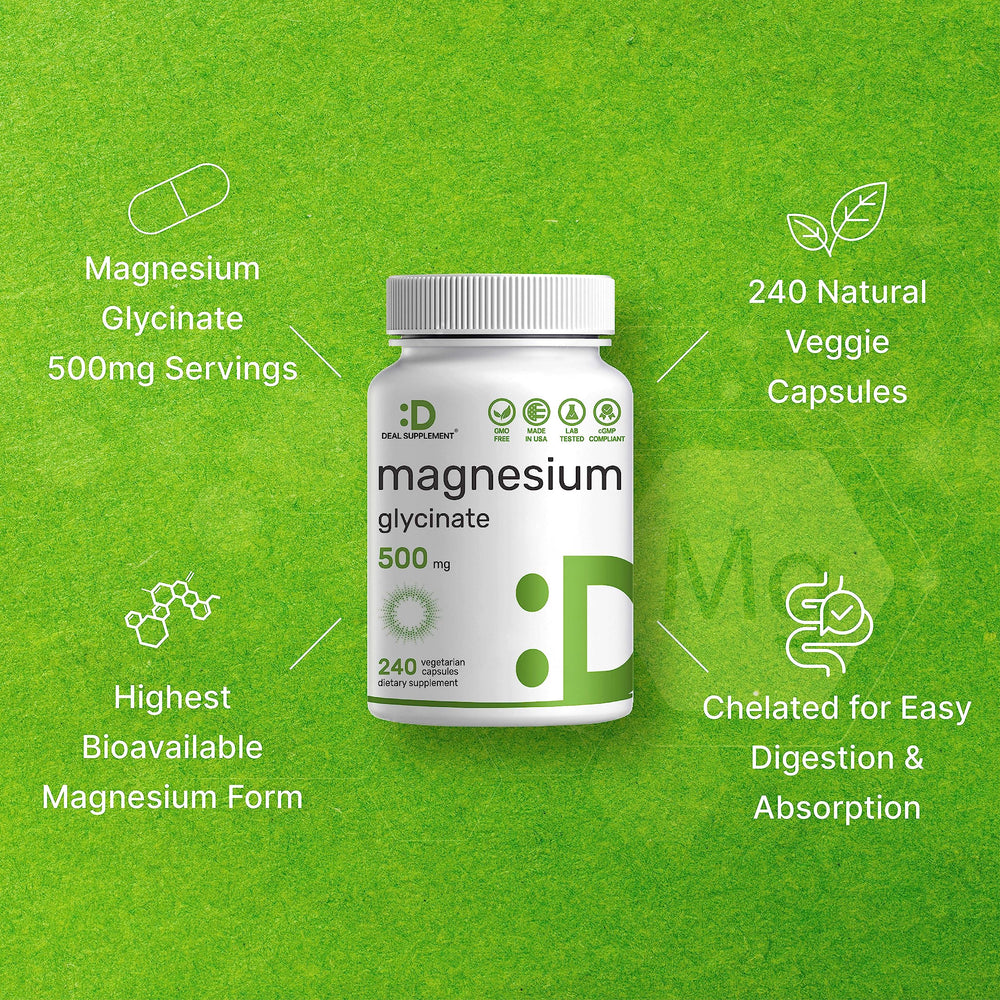 Open media 4 in gallery view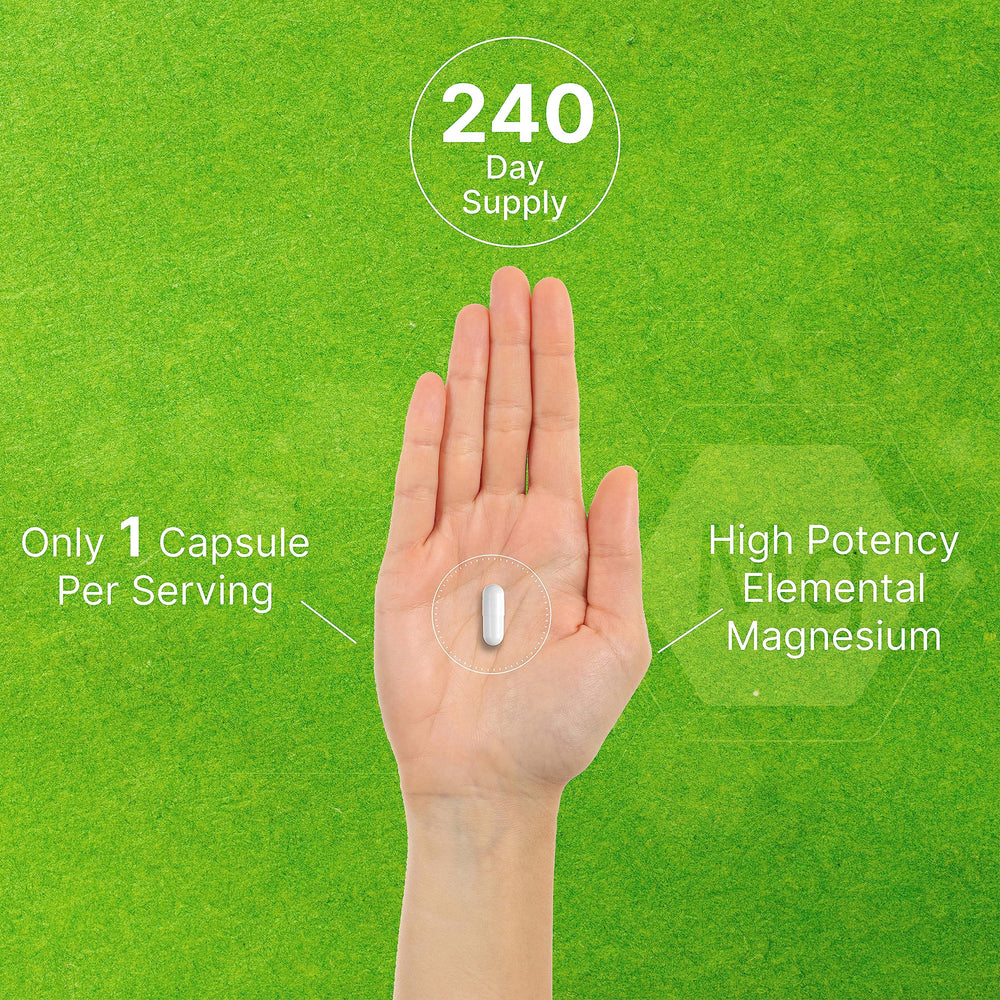 Open media 5 in gallery view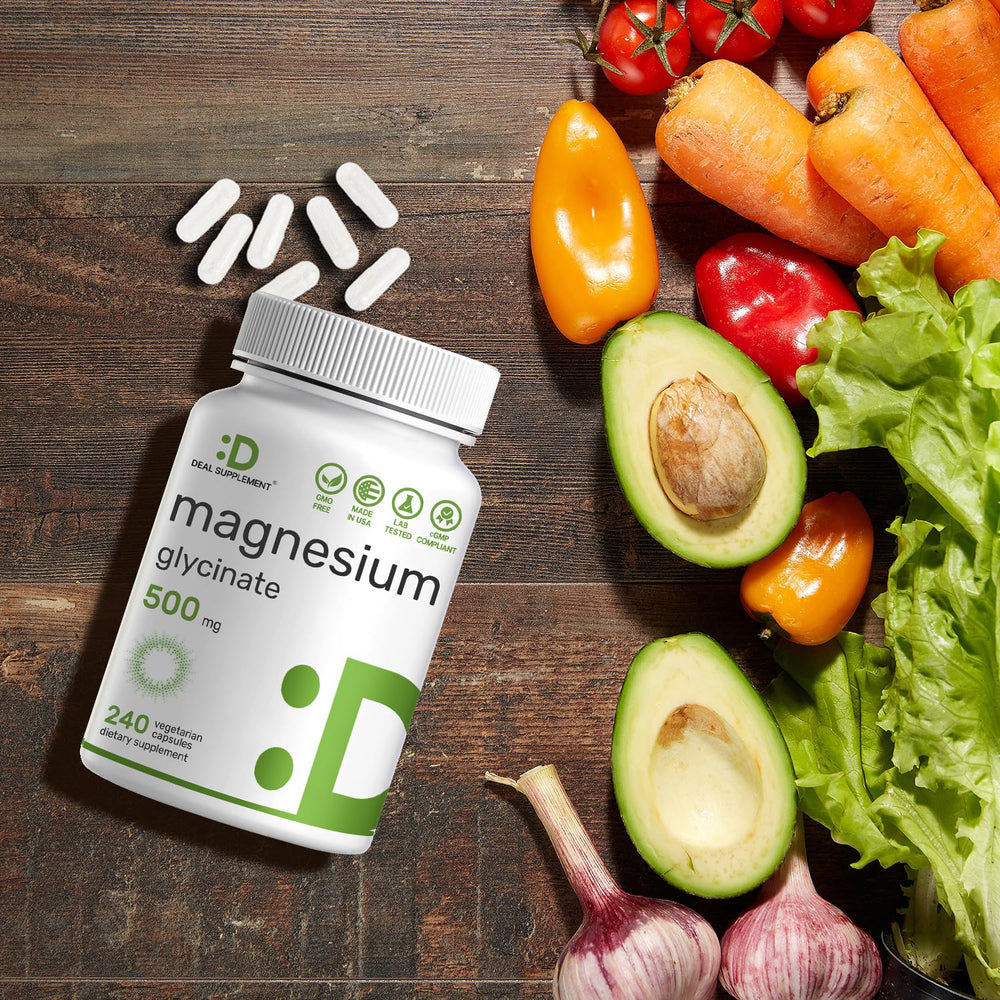 Open media 6 in gallery view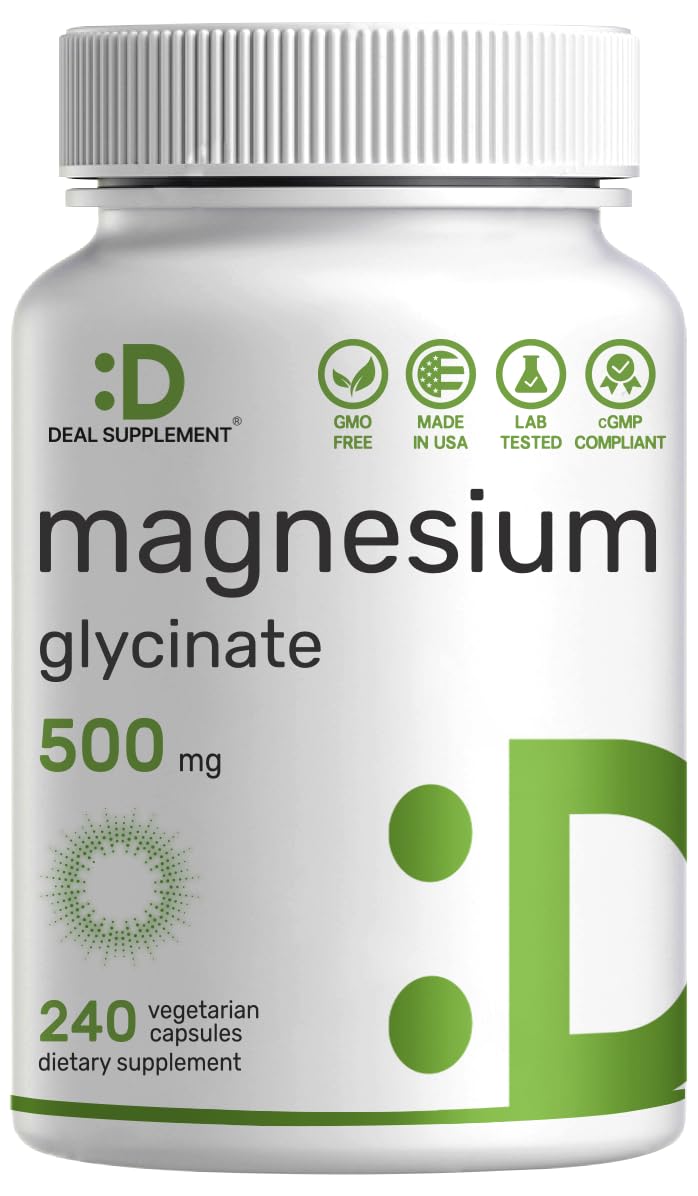 Open media 7 in gallery view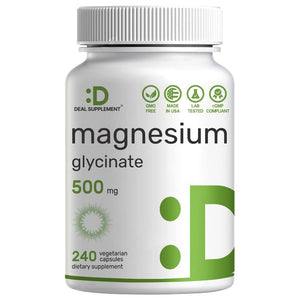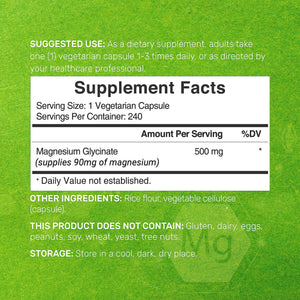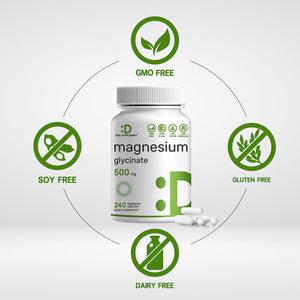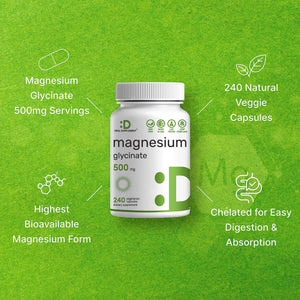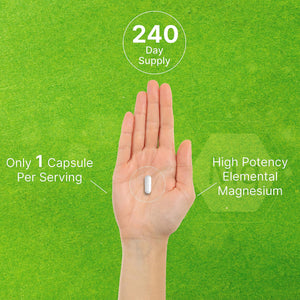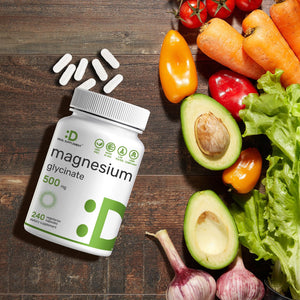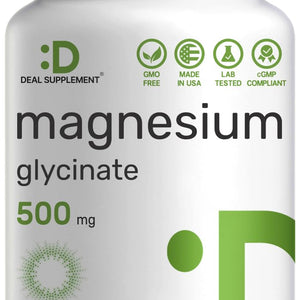 DEAL SUPPLEMENT Magnesium Glycinate 500mg, 240 Veggie Capsules | Chelated for Easy Absorption | Highly Purified Essential Trace Mineral for Muscle, Joint, Heart, & Digestive Health
Sale price

$30.25
14% Off

Regular price

$34.99
Special Features – Max strength elemental magnesium glycinate contained in natural vegetarian capsules. One of the gentlest forms of magnesium that exist and uses high concentrated chelated magnesium for easy
Description
Shipping Policy
Reviews
Description
Shipping Policy
Reviews
Description
Shipping Policy
Reviews
Special Features – Max strength elemental magnesium glycinate contained in natural vegetarian capsules. One of the gentlest forms of magnesium that exist and uses high concentrated chelated magnesium for easy digestion and absorption.
Benefits & Use – This high absorption magnesium provides benefits to over 300 different functions around the body for overall general wellness. Taking it on a regular basis may support bone, heart, joint, digestive, and muscle heath.
Dosage & Servings – Only 1 vegetarian capsule per serving to receive 500mg of pure magnesium glycinate. Each bottle offers 240 veg capsules and up to an 8-month supply.
Purpose – Minerals are an essential micronutrient and chelated magnesium offers an easy and efficient way to up your levels. This version is more stable and can be digested in a more complete form that minimizes waste.
Quality Ensured – Non-GMO magnesium supplements that are 3rd party lab tested and passed. Made without gluten, dairy, eggs, peanuts, soy, wheat, & yeast.

Brand:
DEAL SUPPLEMENT
Size:
240 Count (Pack of 1)

Item Form

:
Capsule

Product Benefits

:
Bone Strength, Heart Health

Flavor

:
Unflavored

 

There are multiple forms of magnesium that exist, but not all of them are created equally. Magnesium glycinate is the gentle form of magnesium and is a vital mineral that plays a crucial role in over 300 bodily functions. The glycinate form is a highly absorbable form of magnesium that is bound to the amino acid glycine, which makes it more stable and will absorb in a more complete form. This makes it easy to digest and suitable for people with sensitive stomachs. With its numerous health benefits, magnesium glycinate is a must-have for anyone looking to maintain a healthy and balanced diet.
At GNMart, we understand that receiving your order in a timely and efficient manner is important to you. That's why we offer fast and reliable shipping options to ensure that your products arrive as quickly as possible.




PROCESSING TIME

We strive to process all orders as quickly as possible. Typically, orders are processed within 1-2 business days from the time of purchase. Please note that orders placed on weekends or holidays may experience a slight delay in processing.

SHIPPING METHODS AND COSTS

We offer a variety of shipping options to meet your needs, including standard and expedited shipping. The cost of shipping is calculated based on the weight and size of your order, as well as the shipping method you choose at checkout.

Once your order has been shipped, you will receive an email confirmation with tracking information so that you can keep an eye on your package as it makes its way to you.

INTERNATIONAL SHIPPING

We are proud to offer international shipping to select countries. Please note that international shipping times may vary depending on your location and customs processing times. Additionally, please be aware that you may be responsible for customs fees and taxes upon delivery.
Stay home & get your daily
needs from our shop
Start You'r Daily Shopping with Nest Mart